Overview
Cargill Removals is a local business, based in Buckie. We aim to offer a prompt, friendly and professional service, whether it be furniture removals or deliveries of items large or small.
Gallery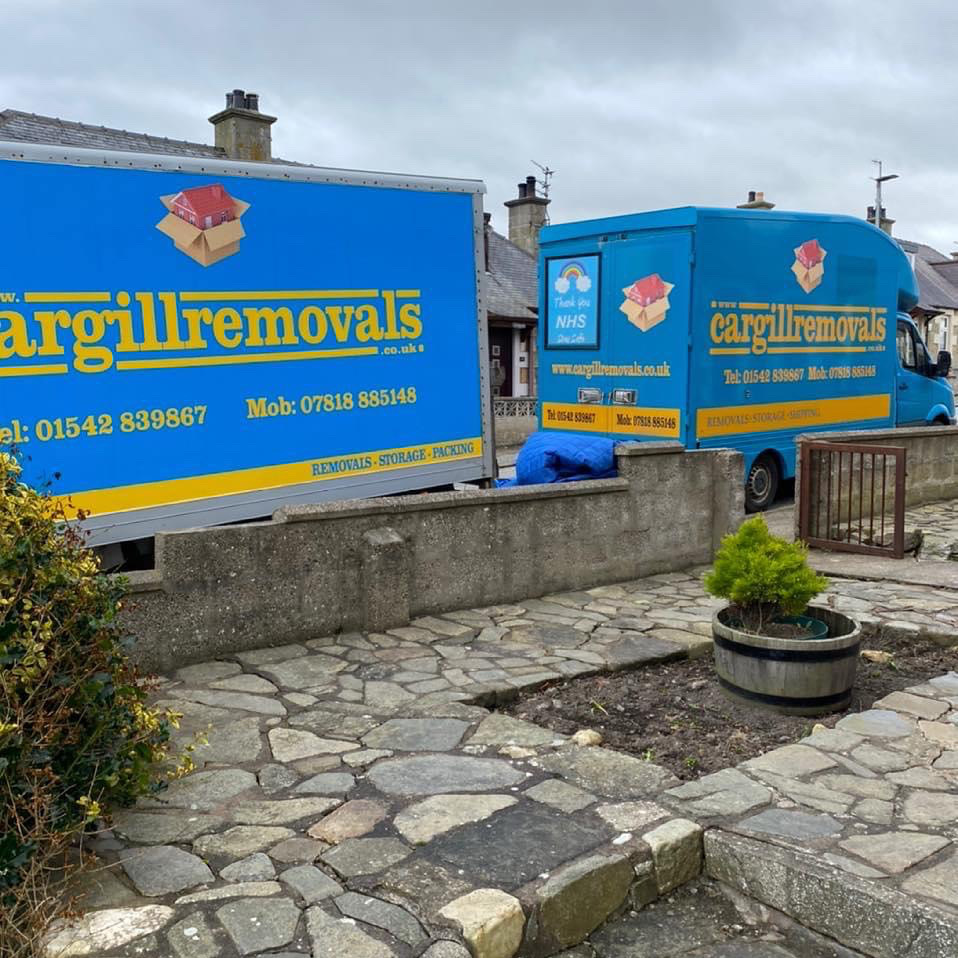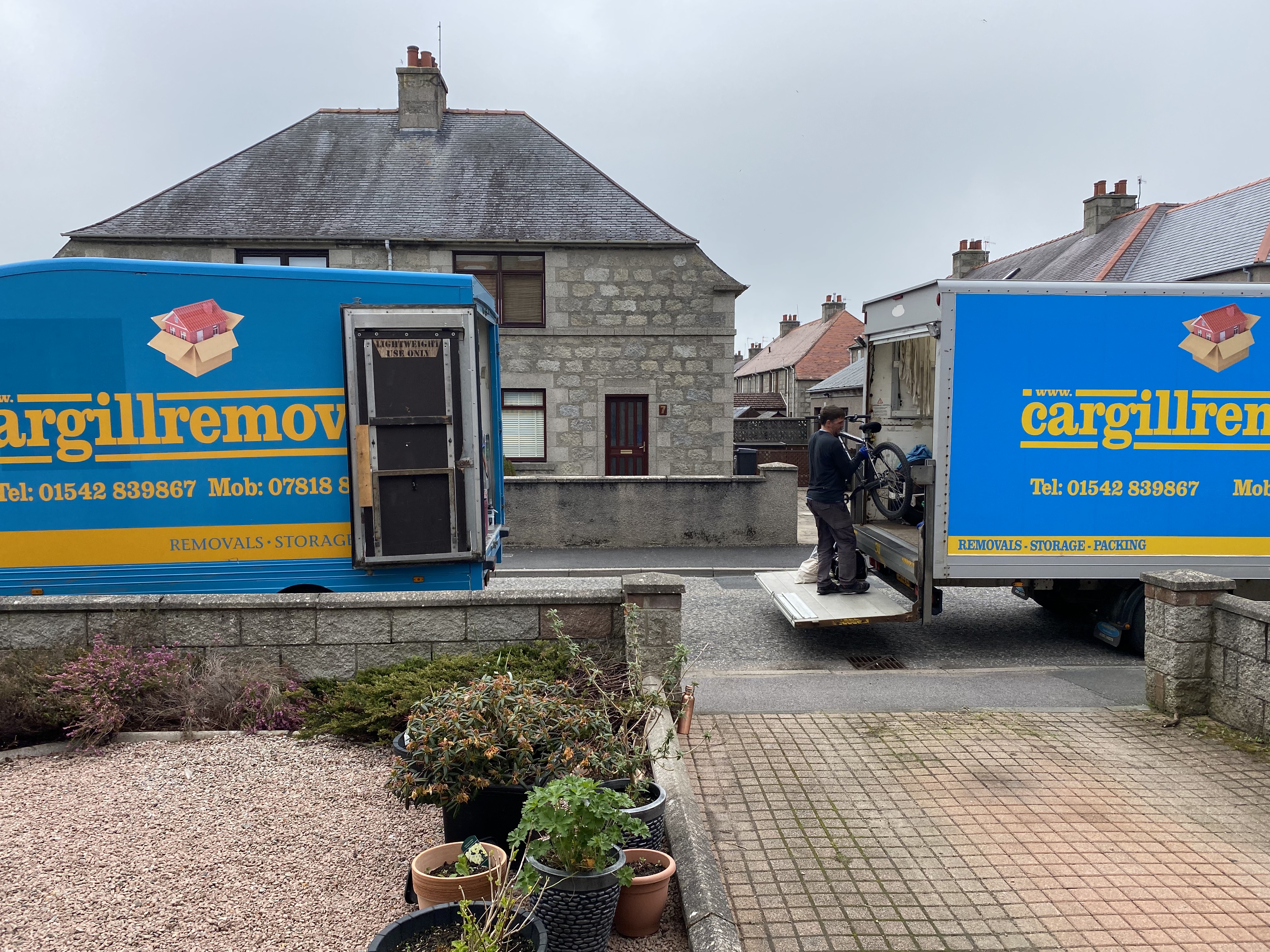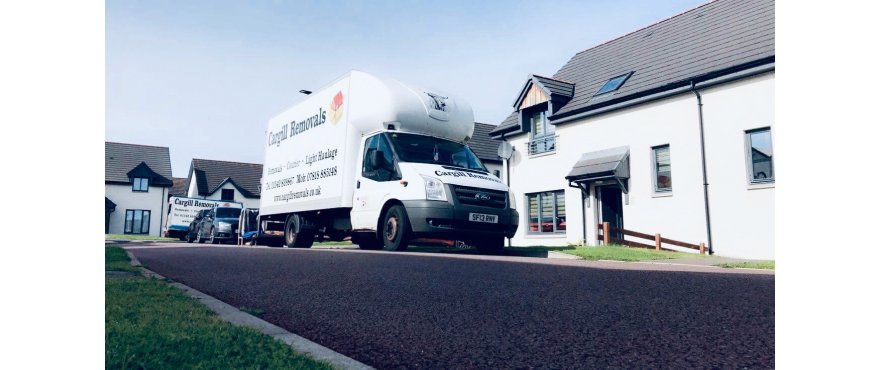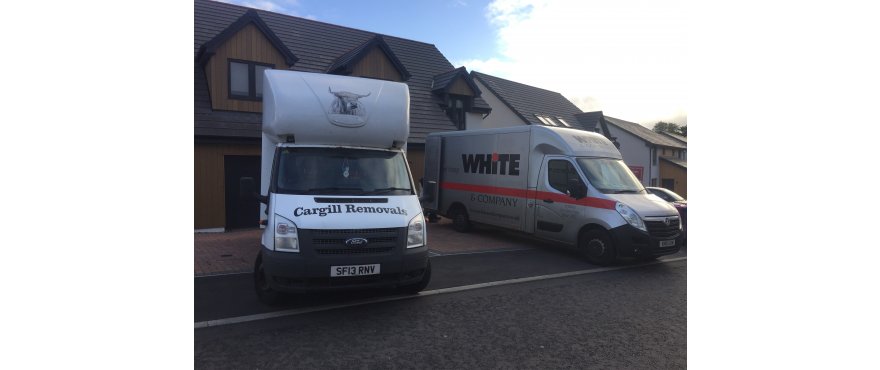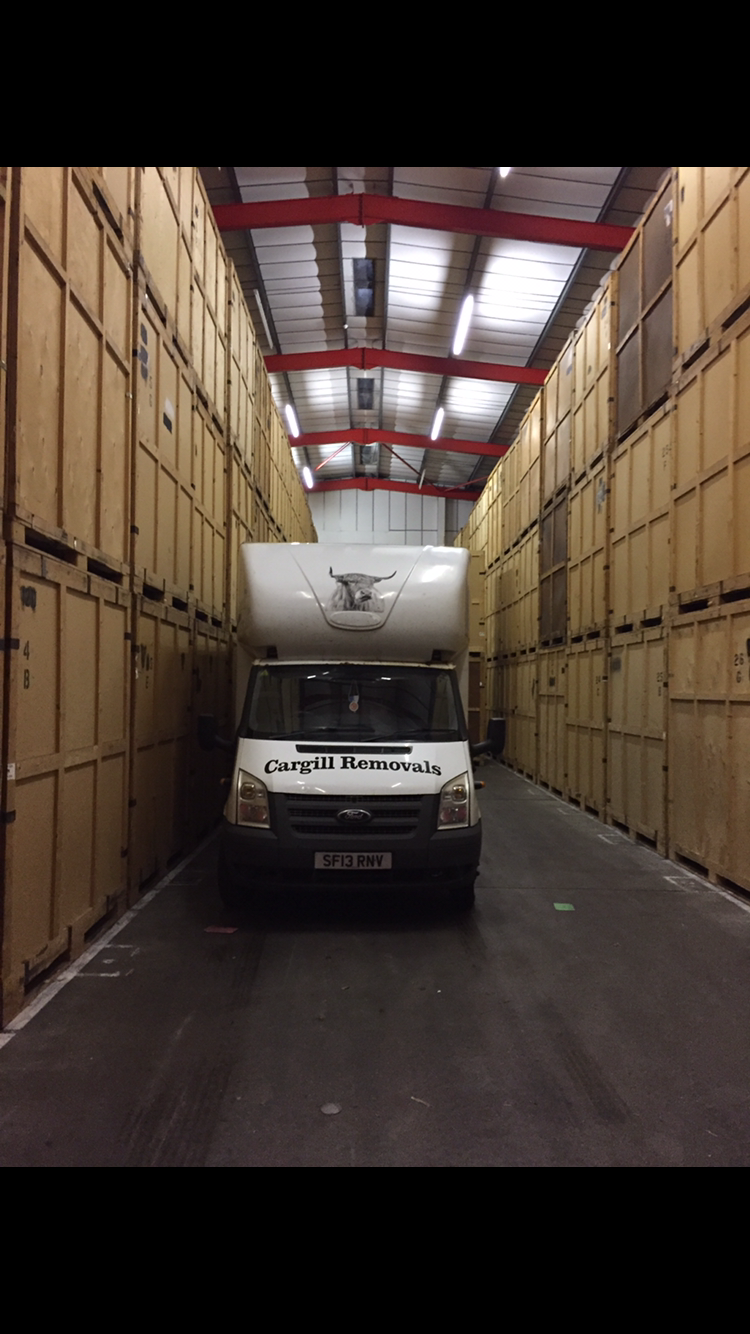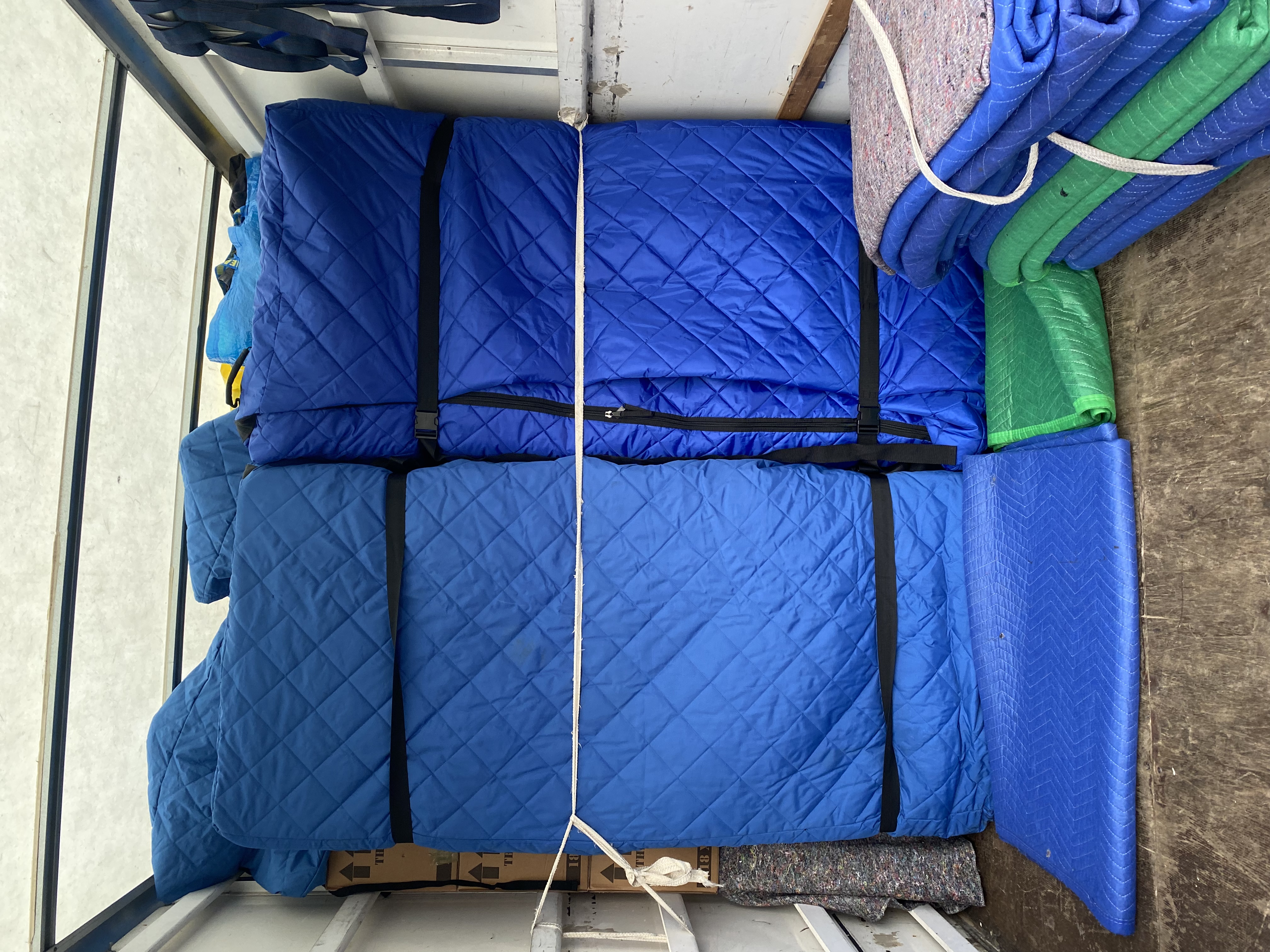 74 Review(s)

Fantastic service. The guys arrived prompt at 0800 and has the house emptied by 1030. They had protective mats for carpets, specialist moving boxes and covers for tvs, picture frames sofas, and kitchen table. There was a delay in getting the keys to new house but as soon as we got them the guys were there to begin unloading. Overall we were delighted with their services and would not hesitate to call on them again. Cheers.

Laurie couldn't have been more helpful with the clearance of our parents house. He accommodated every request we had without problem. We can highly recommend Cargill removals. Sandra & James.

Would recommend this company for anyone thinking of moving.Guys curteos nothing a problem.Thanks Guys

Excellent service from start to finish with a warm friendly team Highly recommend

Very happy with the removals service. It was a long shift, with some of my furniture going into storage and some to a short term rental property. Went the extra mile and connected up my washing machine too. I really appreciated that. They did a great job and I can highly recommend them.

Cargills Removals went above and beyond their remit to ensure that a very stressful day went smoothly. Cannot thank them enough for their efficiency, professionalism and kindness. HIGHLY RECOMMENDED.

Cargill Removals were brilliant on our recent move. We paid for a packing service and full removal. All our possessions were treated with utmost care and nothing was too much trouble and all the guys who helped us were friendly and accomodating. Thanks guys!

Excellent service Would definitely use again The guys worked really hard Thankyou 5 star ++++

Very professional guys. We had a lot of stuff and were not entirely done getting things sorted but they worked around us and just got on with things. We couldn't go to the new place but we gave them a key and they moved everything in and posted the key through the letter box.

We would highly recommend Cargills for so many reasons : Prompt in responses Clear stages of process Very clear in price And now for the good bit: Excellent at what you do: We would and will recommend you to anyone we know, in full confidence of the service you provide Moving home is way less stressful than we'd thought - because you made it simple. Thankyou

Really impressed with the service provided, very professional and great care taken. Great value for money also. Can't rate highly enough.

I have used Cargill`s on a number of occasions, Laurie is always very helpful and accommodating. All furniture is covered and secured inside the van, very helpful at delivery address too, great service always, thank you.

Absolutely delighted with the service these guys provide. They go above and beyond. Very professional and nothing is too much trouble. I highly recommend Cargill Removals.

Efficient in all aspects of correspondence and carrying out the roles required with the move. Considerate of belongings and a calm presence on moving day. Would recommend to anyone requiring services provided.

Excellent and professional service. Nothing was a problem even when we had last minute issues with getting our keys. Would highly recommend.

Speedy, cheerful and approachable communications throughout from our first enquiry to the final delivery and at a very fair price. We moved on the shortest day-not to be recommended- so it was a battle with fading daylight but they remained positive. Suggestions for dealing with access for some of our items were resolved in a professional and friendly manner too which meant a great deal. Some minor scratches to furniture was disappointing and also surprised us since the firm were well furnis

Arrived on time, Laurie and his men were all well organised and got on with the job in hand. They worked swiftly but carefully and I would not hesitate to highly recommend Cargill Removals ????

Friendly team and all went smoothly. Can't be better than that.

5 star service received, being out of the country at the time of our house sale. Laurie and his team packed and moved all our belongings into storage, kept us upto date with information during all processes, took the worry and stress away from us, thanks again!

Amazingly quick and efficient workers professional throughout and very polite and clean work ethics

Excellent service, nothing was too much hassle. Would definitely recommend

Excellent service start to finish....Laurie and the boys couldn't do more to help with the move. Highly recommended.

Highly recommend cargill removals! From all my questions, personally coming out to give a quote, supplying boxes, changing our date at the very last minute because of date errors on our solicitor part which we were so thankful for! Our moving day was a particularly stressful one for the team however everything still ran as smoothly as possible, service was great, could not fault them!

Laurie managed to fit a small removal in for me at very short notice which was so kind of him, took great care with the furniture at both destinations, the young lad was also very nice, texts sent to keep me up to date which was also helpful, would definately use this company again, thank you!

Brilliant service from start to finish. Very professional


Excellent service! Cargills made the stress of moving home so much lighter. Would absolutely recommend.

Very professional service. Would highly recommend.

Great service from very friendly guys, very professional and moved every bit of furniture and a million boxes with much care and attention. would def recommend.

We are a Belfast based removal company and had asked for 2 porters to help us with a move in Aberdeen. They guys that was sent were amazing, worked very hard and were very helpful. We would definitely use Cargills Removal again. Many thanks from Foster and Sons Removals.

The service you provided was very good and I would happily recommend you.

Fantastic service. House move went smoothly with no problems. Items were packed securely and with care and attention. The whole team were friendly. Highly recommend

Fantastic service. Very professional and efficient. Made the day of moving less stressful.

Excellent service from start to finish. Every care was taken with our belongings. I will definitely use Cargills every time in the future.

5 star, stress free moving day, great price. Thank you x


Great guys. Arrived on time and carried out the move with respect and efficiency. Good value too.

Very good and efficient and took the stress away from me by helping to dismantle a few heavy items! Would definitely recommend Cargill. Thanks guys.

Very helpful, professional and quick service. Highly recommend.

Excellent service , 3 boys all worked hard , did a really good job ,nothing was a bother for them. Would recommend them


Excellent service from these guys. Would definitely recommend. Nothing was any trouble & went very smoothly.

First class service. Reliable, punctual and accommodating. Very helpful gentlemen and the price was extremely competitive. ????????????????

I would highly recommend Cargill's for all your home moving and removals. I have used them a few times both local and further afield and the team always provide a professional service with a friendly face. Very happy customer ????

1st class service from start to finish. Could not recommend them enough. 5 stars

Again fantastic professional service from Cargill Temovals. Very accommodating regarding storage, picking up at different locations and made the move stress free and very efficient. Wife was amazed at the speed everything was done without compromising safety and no damages as expected. Thanks for the help and hard work.

Very good service friendly and polite also very friendly

Very professional and efficient, excellent communication. We were very happy with the service we received and would have no hesitation in recommending to others.

Great service. Guys arrived well on time and went above and beyond to help with my move. Highly recommended ????

Laurie and his lads made it a very easy flitting, prompt, quick and nothing was a problem, would have no trouble using them again.

Thank you for a good service. Date had to be changed multiple times but this was never an issue. Turned up on time, efficiently done and friendly staff. Quote very reasonable also. Thank you

Excellent service, friendly staff and reliable! Would highly recommend

Excellent service in every way. Many thanks for your friendly care and consideration throughout; much appreciated

Second time in the past couple of years I have used Cargill Removals. Was a simple choice to use them again and wasn't let down in any way. First class service. Prompt and on time despite road works in the area between his home town and Aberdeen where the pick up was. Laurie and his trusty sidekick Wayne were full of beans, polite and cracked on with the job in a methodical and professional manner. At the other end of the drop no let up in the service, ensuring all items were stacked and stored

Fantastic service. Efficient, careful, fast and full of good humour. They made a stressful day so much easier. Really lovely guys.

Arrived on time as agreed, protected floors well and were very quick and efficient in both loading and unloading. All 3 worked well as a team. Would recommend to others. Also very competitively priced.

We couldn't recommend Cargill Removals enough! Professional, hard working and nothing was too much to ask. Went above and beyond to make sure we were happy and settled in our new home before they left.

First class, very friendly & professional service. Nothing was too much bother at all. Very reasonably priced. Wouldn't hesitate to recommend them or use them again.

Very helpful guys, would use them again.

Fantastic service at very competitive price. I wasn't there for the move but said the whole team were very professional and willing to assist. Thanks Cargill Removals.

did a great job moving my son well organised great service arrived on-time and all done as they advertise and at a competitive price

Fantastic service , cheerful and very efficient ..everything arrived in perfect condition , great service would highly recommend,


Fantastic service, the guys were top class. I would highly recommend them.

Well organised and knowledgeable company, willing to do the extra bit and advise accordingly. Polite, friendly and easy to chat to, really made the whole "stress" of it disappear. Very professional and would highly recommend to everyone looking for a removal company, cheers Laurie & Team!!

would deffo use this compagny again and recommend it to anybody that wants to move in country or outside the country,great service,great expertise,friendly ,quick and for a good price!

Absolutely brilliant. I can't say enough how fantastic this removal service is. Exceptional high standard and going above the call of duty. Thank you very much Laurie, you have taken a lot of the stress from me on moving and I cannot thank you enough

Excellent service provided by Laurie and his team. Turned up on time and moved us to Lossiemouth with no issues encountered. Job well done. Cheers Kevin and Kimberly Fraser.

Great service arrived on time and helped to pack, delivered everything into the new flat with no problems. Would definitely recommend.

They are very good, this is the second time I have used them now, definitely makes a house move alot easier

The whole crew were professional and friendly, and made the move painless for us. I can wholeheartedly recommend Cargill's.

Fantastic service from start to finish. Excellent communication throughout and a professional, friendly service. Would highly recommend.

Can only say that Cargill removals were excellent in carrying out our move. Very helpful and professional in their job.

Friendly, helpful, cost effective service. I do not hesitate to recommend this company.